After School Program: Serves the needs of families after school dismisses by providing a safe and enriching environment that meets the appropriate developmental needs of  school age children, ages five (5) through 12.  For more information, call us at (601) 355-0001.
Caregiver Support Group:  Provides support, information about services, subject-matter speakers, and respite care for families to be temporarily relieved of daily caregiver demands. Ongoing meetings are simultaneously, Tuesdays 10AM - 2PM, with the Early Memory Loss Program, and offers a group facilitator monthly, on each first Tuesday, 12PM-1PM.
Clothing Closet:  The clothing closet provides clothing to families in need of clothing due to weather related disasters, tragic events and basic need for clothing. Donations of gently worn clothing, shoes, accessories and toiletries are welcomed. Contact us at pearlstreetcdc@comcast.net of 601-355-0001.
Early Memory Loss:  "A Friendly Reminder" is an early memory to moderate memory loss program that uses techniques and activities that stimulate the brain in order to retain memory. This program is offered on Tuesdays, 10AM- 2PM. For more informtion or to register, call us at 601-355-0001 or email us at pearlstreetcdc@comcast.net.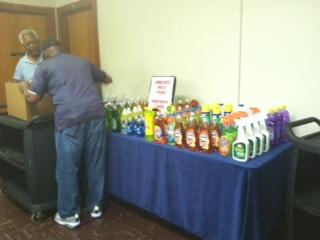 Food Pantry:  Our food pantry, meets the immediate and temporary needs of families who need assistance with food. Pearl Street CDC, Inc. partners as a member with Mississippi's only Food Bank, Mississippi Food Network, to distribute food for families in need.  Your donation of nonperishable food items will help support families. Contact us to organize a food drive for your school, church, sorority, fraternity, club, or group:  pearlstreetcdc@comcast.net of 601-355-0001.
Focus on Youth with Impact:  An evidence-based curriculum that focuses on the prevention of HIV for African-American youth, teen health and positive choices for males and females, ages 12-15 years old.  The curriculum is taught in small groups of 8-10 youth and includes a program for parents.  Education, Training and Research (ETR) and Centers for Disease Control and Prevention, Division of HIV/AIDS Prevention are acknowledged for the research and curriculum of this program.
Health and Fitness:  In collaboration with the Pearl Street A.M.E. Church's health and wellness mission, we encourage families and youth to become a part of the Healthy Temple fitness program.  The program offers line dancing, high and low impact aerobics and walking. For more information, email: pearlstreetame@comcast.net or call 601-352-6087.
Housing:  Pearl Street CDC, Inc.'s goal is to stimulate economic and community development through the development of affordable housing for families in the community. Our current focus is the development of a 14 acre senior living facility, mixed use, retail, apartments, garden homes and dedicated apartments for individuals with disabilities. Our plans include a wellness component to meet the needs of residents.

Mentoring:  We focus on community, family and youth and provide community-based and group mentoring for males and females, ages 10-18 years old.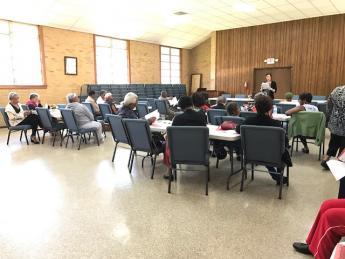 Senior Adults:  Our senior adult program, The Evening Stars, engages intergenerational special projects, senior adult educational workshops and speakers along with resource information.  Day trips and social outings are included on the senior adult agenda.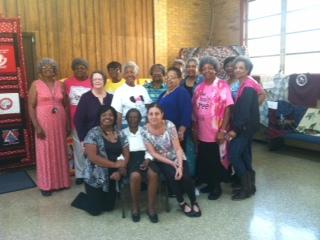 Quilt Making Project:  Our quilting project, Sew Every Wednesday, is a community-wide collaborative effort. The quilting project was developed to bring awareness to the Mississippi tradition of quilting and to renew interest in the art of quilt making.  We offer weekly hands-on quilting workshops for adults, (men and women) and youth. The quilting project is supported in part by funding from the Mississippi Arts Commission, a state agency, and the National Endowment for the Arts, a federal agency.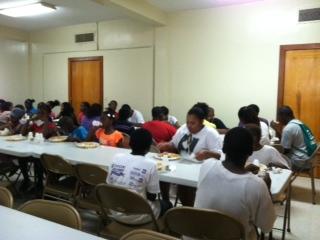 Summer Food Service Program:  A sponsor and feeding site that provides hot meals, breakfast and lunch, to children up to 18 years old and students with disabilities, who are enrolled in school that may be over the age of 18. This summer feeding program operates based on funding from USDA and the Mississippi Department of Education.  Pearl Street CDC, Inc. also operates satellite feeding sites during the summer. 
Speakers Bureau
We collaborate with speakers and leaders in the community that may be able to inspire and share information that will assist in empowering the community, individuals and local businesses.  Call (601)355-0001 for additional information.